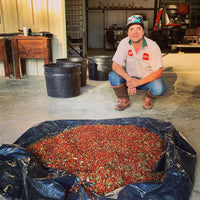 James Vives started Brushfire Farms, a small business based in San Antonio, Texas, back in 2018. It all started from a family recipe passed down to James that utilized the Chile Pequin pepper. This small chile is a fairly common native pepper to South Texas and Northern Mexico, but unlike its jalapeño, serrano and habanero cousins, is seldom used in the food world. With this pepper, James created a unique pepper jam we call Ol Tejano. Our development has been a truly local story, and we've been recognized nationally and internationally for our tremendous flavors. In 2019, we won a prestigious Good Food Award for our Peach – Aji Limon aka Hill Country Heat and also an International Spicy Flav Award for our Prickly Pear – Chile Pequin Jam aka Pear Burner.
In 2020 we created a prickly pear simple syrup using the juice from hand picked prickly pear in South Texas. Picking these seasonal pears is no easy task due to the rugged terrain and dead heat of the summer. These native pears come from the Rio Grande Prickly Pear Cactus that grows by the natural sunlight and rainfall South Texas provides. Our prickly pear simple syrup goes great with any cocktail you want to add a little South Texas Sweetness to.
We are telling a story – and developing products that are unique to Texas!